Watercolor Gallery
Below are samples of Bernie's work.
Clicking on the thumbnails will show a larger view.

"School of the Matriarch's"
30" x 36"
$700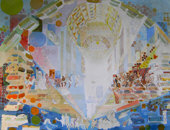 | | |
| --- | --- |
| | "Winter Walk" 22" x 28" watercolor, 2009 |
Pedestrians
A "wet in wet" technique watercolor looking down from my balcony on Calle Salva in Barcelona in 1999.

Umbrellas (sold)

This watercolor was painted looking down from the balcony of my 4th floor room in Barcelona in1999 on a rainy day.
Eastport Tugs and Breakwater (sold)
watercolor 15"x22"
This was painted on shore near empty store fronts that are slowly filling with art and pottery shops,


Hanoi Woman On Bicycle (sold)

This is a scene from Vietnam. One of those post card scenes. I edited, for artistic reasons, the many other bikes and motorbikes that swarm down the streets and weave thru cross traffic.
Geronimo Avenue Madrid (sold)
watercolor 22"x28"

This was done looking down the hill with the Prado Museum around the corner.
2 White Boats (sold)

Eastport, the most easterly shore of the United States, made me think of the tradition of painting boats.
Waves with Blue Tug

Looking at the waves as a "subject".
| | |
| --- | --- |
| Winter Sunset | |
Trimming the Hoof (sold)
watercolor 30"x22"

Local farrier at work in Wellington, Maine.
School and Hillside

(Buenos Aires Hillside), Nogales, Sonora, Mexico.

Fishing Boats with Hanging Nets

Watercolor.
"Wood Shed Door"
28" x 22"
| | |
| --- | --- |
| | |
"Veggie Head"
15" x 11"

2007

"Grange Hall #2"
22" x 18"

$800
©2003-2013
Bernie Beckman
For more information about BernieBeckman.com
email Bernie at Barnyard@tdstelme.net or call him at 207-683-2412
Site hosted and maintained by CharlesWorks
CharlesWorks Directory